Laura Geagea, managing director and executive producer at Sweetshop, China, Asia & MENA reports for Campaign Brief Asia from AdFest 2019.
Adfest is finally back and here we all are back at the lovely Royal Cliff, sitting by the pool, sipping on cocktails and just genuinely looking forward to four great days of talks, drinks, awards and all the rest!
This year's theme is 'Today and Tomorrow' and how fitting since we're clearly all starting to give more attention the future of our advertising world. Where are we going with the industry? Are we doing things right today for a better tomorrow? And what does the future hold really?
I do love the talks at Adfest and as soon as I've checked into my room, I made my way to the conference hall to start my day with Thomas Hongtack Kim's 'Why Human Insight Matters More in the Tech Driven Era' talk.
Thomas walked us through some examples with one that completely stood out – the baby stroller test drive. And imagine this, adults test driving giant sized baby strollers.
The idea of this is to create an experience rather than just give information to potentially buyers. Contours Baby created an adult replica of their best-selling baby stroller and made adults try it out. This is based on the obvious idea that unless you have a very advanced child, a baby can't tell you what he likes and dislikes about his or her stroller.
But by putting adults in the giant size stroller, the brand got the parents to experience the ergonomics of the product before they potentially made a purchase.
The main message here is: if you tell people they might forget, but you make them experience it and they'll remember it. And if you use your parameters to get genuine insight in this tech driven era, you might just come across some real creative solutions.
Up next, five impressive ladies took the stage to discuss a topic that has obviously become increasingly on the forefront of the industry. 'More Female Voices in the Advertising Pipeline Encouraging Parity in the Business',
Led by Pippa Bhatt from Madam Films, Emma Daines (Fin Design & Effects), Maria Laletina (SHP & SHP+), Carly Stone (Madam Films) and Victoria Conners (The Producers). This group took us through their insights as women in the industry who have been doing it on their own.
Women Owned is an international collective of female owned companies that started in November 2018. It's about creating awareness for brands and making sure that women are getting the same opportunities that are available to men based on their talent. The website is designed to introduce and connect all of the members to a global market. But also make sure that they hear from men and women alike about ideas and what they can do to move things forward.
The five women on stage told us where their inspiration came from, their energy in the work force, but also the balance that comes with working and having a family life. The reality of this is women have two full-time jobs, one in the office and one at home.
Women directors and the fewer opportunities they get comparatively in the scripts that they see, was also one of the broached topics. So how come parity is so important?
Parity in the work place brings balance and value to business. Studies about diversity in your work place will make it more productive, more creative, and financially more lucrative. One study that stood out was from MIT, and it stated that companies with gender balanced management teams experience positives differences in their income.
So of course, it's about being passionate about work, but also our own wellbeing and families are important. It's about getting the opportunities, but also the right support so that this all works.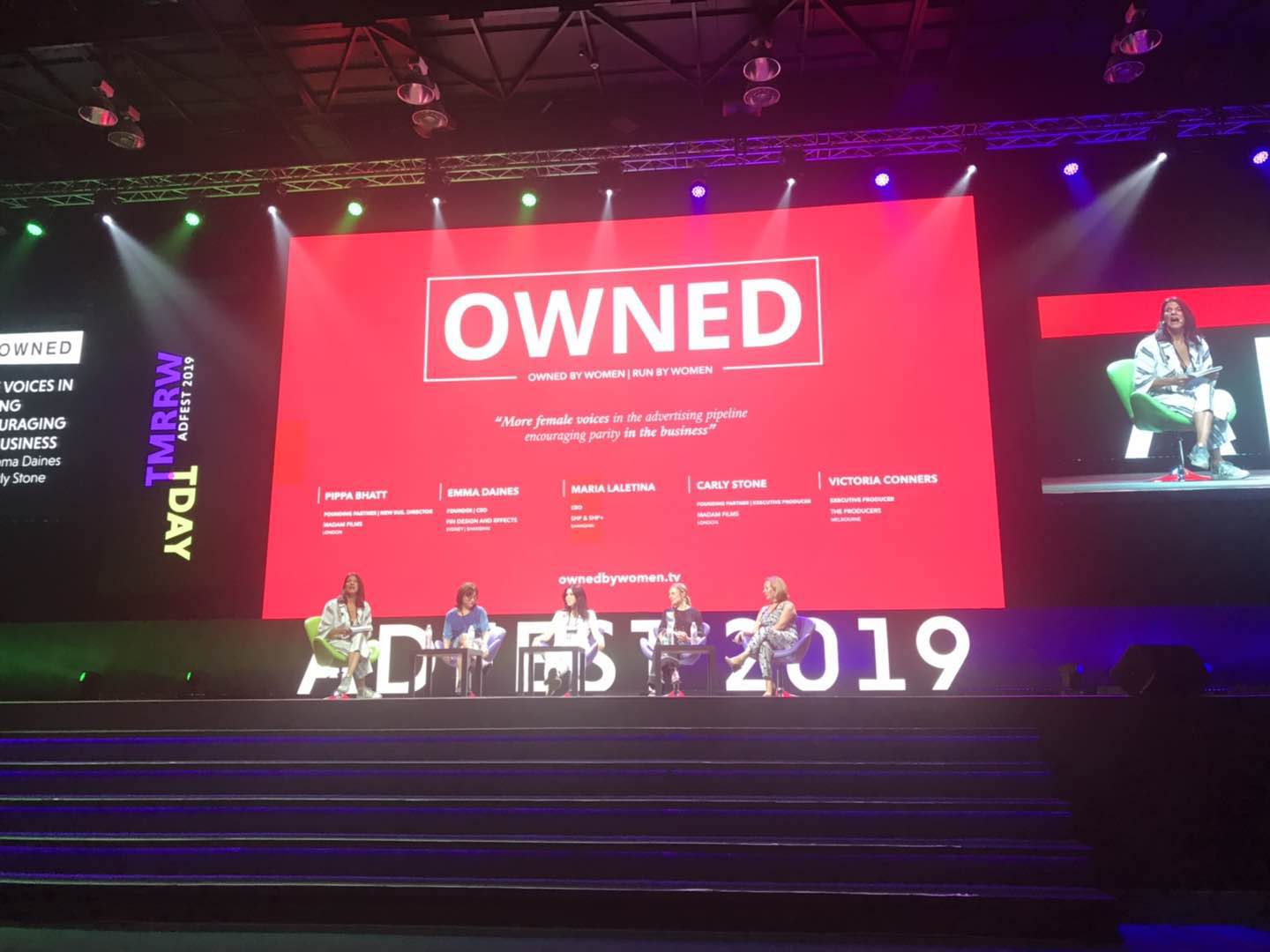 Jamie Loudon, Executive Producer from MPC Shanghai took the stage next to tell us how crucial partnership and collaboration is for post-production and how to get the most out of that.
In his talk titled 'VFX and the future of creative collaboration: getting the most out of partnership', Jamie took us through how collaboration should be employed correctly and why it will make your project a better and more successful one in the end.
Highlighting the difference between the advertising workflow and that of feature films, he showed us that our advertising workflow makes collaboration slightly more difficult because of the separation and only linear connectivity between the different layers (clients, agency, production and post).
Examples of collaboration included an awesome Nike spot from W+K Shanghai to a BMW spot from MJZ USA and a beautifully crafted Ridley Scoot Hennessey spot.
So how do we encourage collaboration in order to make your business and your projects stronger?
Jamie told us to get the post house, MPC in this instance, involved earlier rather than later. The examples that were shown were jobs that included the post house from the very start of the project and made sure that the collaboration between all the parties kept going to master delivery. That way each contributor's skillsets are brought to the table right at the beginning
That put an end to my first day of talks. Next was the first Adfest evening, the Network Cocktail Party at the Grand Pool Patio. Always fun to end the day with a nice glass of wine and get ourselves ready for Day two.