In a new series by Facebook Curated, Jay Morgan from Creative Shop talks to BBH London associate CDs Ben Edwards and Guy Hobbs on how they created Tinie's Whoppa on a Whopper.
Author: Georgina Safe
Interview by: Jay Morgan, Creative Shop, Facebook ANZ
"You've got to give people something immersive, because if you don't you are just lost in the wilderness," says Edwards
When Tinie Tempah penned his new track Whoppa, he had no idea his ode to hot summer nights would end up selling a sizzling burger.
"Of all the ways I'd be launching a single in 2020, I couldn't have predicted that it would be through a performance on top of a flame grilled Whopper," the British rapper said at the time. "When we made this song the vibe was all about summertime and bringing that Latin heat and energy – not so much about burgers. But when Burger King reached out, we immediately knew we just had to collaborate."
The duo behind the off-the-wall partnership were Ben Edwards and Guy Hobbs, who connected the pint size rapper with the fast food giant then put an AR version of Tempah on a Whopper to stage a private concert for Burger King customers.
"For the same budget you could have made a pretty terrible tv ad," says Hobbs. "So I think they were happy with re-allocating that budget to something more interesting, fun and interactive."
Those three adjectives have been the USP for Edwards and Hobbs since the former Welsh assistant sales assistant at Toys R Us and Australian gantry crane operator moved into advertising with a belief in "the silver bullet," a single transcendent image or idea that hits the target every time.
The silver bullet to success
"Something that becomes so single minded as an image that it doesn't need explaining using words and transcends every culture and language to become that key image in social that just stops you as you are swiping through," says Edwards. "That really is the silver bullet you are looking for: that single image that makes you feel something in that moment and compels you to interact, to share or to do something off the back of it. That's a good barometer to gauge your ideas against."
Whether the silver bullet has been sending a satellite into space for Samsung's Space Selfie campaign that allowed people to capture their image on a phone orbiting the earth, or introducing a mobile payment system for consumers to sell on the magazine after purchasing it from a homeless person, the consistent thread through the pair's innovative and provocative work involves engaging its audience fair with rich and genuine content.
(Tinie's Whoppa on a Whopper hitting a nerve with Whopper lovers sharing their experience across social media)
"There is so much noise out there you need to give people something for them to want to be part of a campaign," says Hobbs. "When we look at an idea we always think about how we get people involved (with an) interactive and immersive experience that makes it a far richer experience for the consumer.  An exclusive experience people opt into is far more powerful than an ad being forced on someone."
In the case of Burger King, the company had been struggling due to the Covid-induced closure of its restaurants around the world and needed to reignite people's passion for their iconic Whopper burger. As it prepared to re-open, Tempah released Whoppa. While the track was not explicitly written about Whoppers, Edwards and Hobbs divined an off-the-wall idea to connect the musician with the mega-brand – and ran with it.
"The video had elements hinting at Burger King but there was no collaboration prior to the single being released," says Hobbs. "We took the opportunity and jumped on it."
(Tinie Tempah performing 'Whoppa' on a Whopper)
The appeal according to Edwards was "the inherent humour in Tinie, who has a funny name because he's quite a small guy, and a Whopper as this big thing, so the odd language and doubling up of those phrases just felt suitably silly."
Burger King are known to be super agile as marketers and quickly get behind ideas they believe in. They gave the green-lighted soon after the wonderfully surreal elevator pitch – "a tiny British rapper performing a track about Whoppas on top of a Whopper" – Tempah was quick to come on board.
"Tinie saw it as a win-win really," says Hobbs. "He got exposure for his new track and got to give back to people suffering in lockdown. Burger King obviously got an amazing artist to help promote their famous burger so everyone was pretty stoked with the idea."
Then the logistics and hard work began.
"We started thinking 'what can you do around that?' and because of Covid there wasn't a huge amount," says Hobbs. "You can't do in-store activations, you can't send Tinie around to people's houses because he'd have to be wearing full PPE, so what we came up with was Tinie performing Whoppa on top of a Whopper in AR: a tiny performance by Tinie exclusively for you at home."
Burgers and bandwidth
Burger King's prompt buy-in to a good idea allowed production to be fast tracked, resulting in a breakthrough idea in record time.
With just three weeks to complete the work – "which I think is some kind of world record" – BBH had to record the rapper volumetrically in one of just three such studios in the world, then render out file sizes that were terabytes each and have the campaign live within three weeks, all against the backdrop of a pandemic.
(Behind the scenes 3D modelling of the Whopper wrapper to make sure Tinie stuck his performance perfectly on top of the burger)
"There were challenges around the shooting because of social distancing," says Edwards. "Everyone had to turn up at the shoot in masks, and we had to have double-ups on each member of staff, so we had standbys in case they became ill. If there was any impact or any mistakes along the way it could have been quite costly and also had an impact on the timings, because we had to get it out so it was playing off the release of the track."
The duo then worked with 8th Wall AR studio to render and edit to a tight deadline.
(Tinie was heavily involved in the process of producing his 3D performance for the campaign)
"It's a pretty involved process and a little bit nerve wracking because when you get a WIP it's a train moving in one direction so you can tweak as you go but there is no going back," says Hobbs.
(The process of editing the volumetric capture to achieve the right balance of fidelity and performance)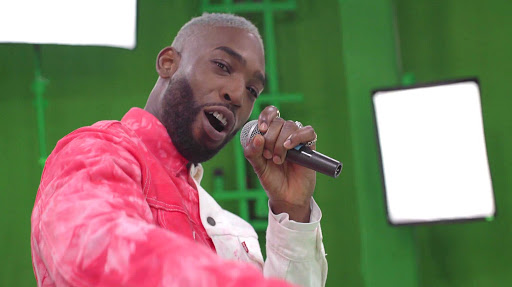 (The performance was recorded in a volumetric capture studio in London by Dimension Studios – One of only a handful of such facilities around the world)
When we speak he and Edwards are back in their London studio after lockdown – and the reunion for the associate creative directors of BBH London couldn't be sweeter.
"Working remotely as a creative pair is tough," says Hobbs, citing Zoom's artificiality as an impediment to the free flow of ideas.
"It's the details in the other person's face that you miss for the nuances in their reaction," says Edwards. "Usually if you see a little twitch you read off that twitch and you think 'he likes that idea, let's go with that' whereas when it becomes a digitalised, 2D pixelated version you can't riff off that in the same way."
The duo's Covid workaround was creating a digital ideas wall to substitute for the Post-It note plastered one that provides the backdrop for our interview, with the result that during isolation the duo produced some of their best work yet connecting consumers with brands in their signature interactive and emotive style.
That included recruiting Jamie Oliver to show Tesco shoppers how to use whatever ingredients they had at home when they couldn't visit stores – a campaign they turned around in just five days – channelling their humane and often light hearted approach to bring a little levity to the world during the pandemic.
Say it with a smile
"There is a humour and a lightness in how we approach things, and where we can, we inject a little humanity," says Edwards. "If you can raise a smile with the communications that you are doing then I think that's a pretty privileged place to be."
The need for speed
What has changed over the years for the duo – and everyone else in advertising – is the speed with which they must respond to changing market forces and global developments.
"When we were working with Tesco during lockdown the insights would come in and we had to adapt to those in real time," says Hobbs.
According to Edwards: "the dangerous thing is when you are getting those live insights into consumer behaviours, advertising has to react in an equally quick way otherwise [the situation] will change within two weeks. That puts an added pressure on us, but there's an excitement as well because (during lockdown) we put out four or five campaigns in six weeks, which is a record for us. Advertising can be so much quicker than broadcast. It has that ability to be able to react and put things out into the culture."
A new world order
That culture has experienced a fundamental shift due to Covid-19, moving from a global to a local perspective that requires a rethink by agencies and advertisers alike.
"People aren't travelling as much and they're spending more time with core friends and family and shopping locally," says Hobbs.
"Before you talked to a mass audience but now things are coming back to smaller groups and how brands are going to interact with that is a real challenge."
Whether that's working with local businesses IRL or engaging with Facebook groups and other digital community groups online, Edwards is hopeful the result will be a more egalitarian and integrated industry.
"If there is an acceleration to being more community-minded and giving back, I think that would be nice," he says.
Navigating forward post-Covid will require a greater empathy and understanding, but for Edwards and Hobbs the bedrock of their approach remains the same.
"Covid has opened a wider emotional disparity and being aware of that is crucial as a brand," says Edwards. "You need to be aware of the sensitivity around the situation (because) there are people losing jobs and losing loved ones, but at the same time you want to raise a smile."
Ten Second Bio
From: Ben Edwards (below right) is from Bangor, Wales. Guy Hobbs (below left) is from Adelaide, Australia
Background: Edwards was an assistant sales assistant at Toys R Us and Hobbs a gantry crane operator before they moved into advertising
Famous work: Burger King x Tinie, Big Issue – Pay It Forward, Samsung – SpaceSelfie
Mantra: A fair exchange with the audience. "You need to give people something for them to want to be part of a campaign".