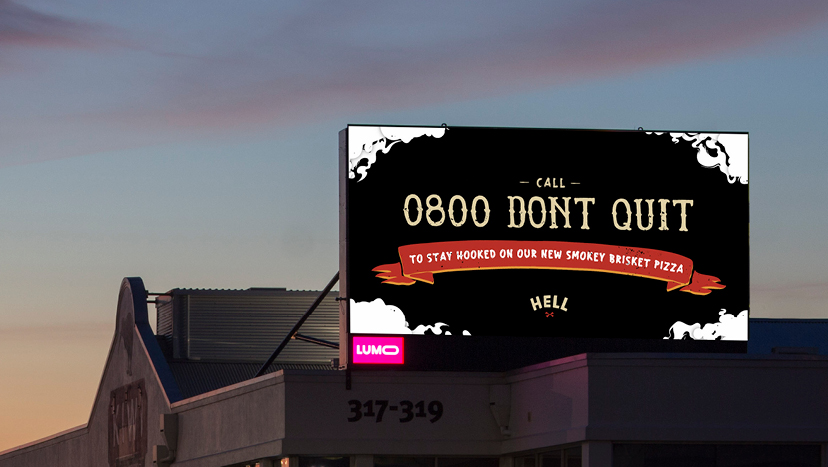 Hell Pizza has teamed up with new creative indie agency, Yarn, to launch a tongue-in-cheek support line to help people stay hooked on the new Smokey Brisket pizza.
By calling 0800 DONT QUIT, smoked-loving fans will receive support in many different forms, from friendly advice from other non-quitters, delicious ASMR sounds that will make your mouth water, along with a 10 step guide to not quitting.
Says Rich Robson and Matt Sellars, creative partners at Yarn: "Hell Pizza has been the epitome of a challenger brand in New Zealand for over 25 years now, so we're stoked to be working with such a brave and ambitious team.
"While navigating a traditional 0800 number can be infuriating, it's given us a great medium for delivering some non-traditional branded entertainment."
Hell Pizza are big supporters of being smokefree, but when it comes to smoking food, they're more than happy to stand up for their love of ingredients – like the smoked brisket, smoked cheddar and smoky BBQ base in its latest creation.
Says Siang Tay, marketing manager, Hell Pizza: "We're stoked to be working with the team at Yarn to deliver on this light hearted and ironic way of launching our new Smokey Brisket Pizza. We're always looking out for fun and unique ways to help facilitate getting our delicious creations into Kiwi mouths and this campaign has delivered."
Alongside the 0800 DONT QUIT helpline, the campaign will be supported with outdoor, radio, digital and social content.
This campaign comes hot off the back of the agency's Tourism New Zealand campaign earlier this year, which attracted worldwide news coverage and an estimated 1.47 billion organic global reach.
Hell Pizza
CEO: Ben Cumming
Founder: Callum Davies
Marketing Manager: Siang Tay
Marketing Coordinator: Holly Mills
Creative & Production: Yarn
Managing Partner & Executive Producer: Heath Davy
Creative Partners: Rich Robson & Matt Sellars
Creatives: Robyn Ramsey & Luke Roxburgh
Design: Inject / Caroline Wilkie
Motion: Jasper Johnstone
Sound: Radiate / NZME