CB Exclusive – Watch the film. Read the book. Join the Corps. NRMA Insurance has released 'A Fire Inside' – a significant project including a feature length documentary and a book – to create a national movement in partnership with Minderoo Foundation, to mobilise Australia's largest contingency of volunteers to prepare and protect Australia from future natural disasters.
NRMA Insurance's data shows Australia's going to be facing more extreme temperatures, more acute droughts, longer and more intense bushfire seasons, and more destructive floods and storms in the future. The brand has a vision to encourage all Australians to take preventive action against these extreme weather events and build more resilient communities.
To achieve this, NRMA Insurance has created a suite of action-oriented programs that inspire people to proactively prepare – 'A Fire Inside' is the brand's most ambitious project to date. It was brought to life by a village of creative agencies, talent and world-class distributors including FINCH, The Tuesday Club, Thames & Hudson Australia Pty Ltd in association with Blackwell & Ruth, film distributor Icon Film Distribution, Thinkerbell, Initiative, Nine Network and Sydney Film Festival.
The project also includes some of the biggest names associated with resilience and the Black Summer bushfires including Shane Fitzsimmons (commissioner of resilience NSW), John Brogden (chairman of Lifeline Australia), Ebony Gaylor (founder of DOA, and sociologist and social futurist) and Sir David Attenborough.
NRMA Insurance director of content and customer engagement Zara Curtis, who is an executive producer of 'A Fire Inside', said NRMA Insurance wanted to share the emotional accounts of help before and after the fires: "As an insurer, we see first-hand the heartbreaking impact of natural disasters on our customers and their communities. NRMA Insurance has a long history of working with communities on a range of action-orientated programs that inspire people to proactively prepare for future climate disasters. This includes the launch of our Minecraft bushfire simulation, Climate Warriors, aimed at educating future generations on how to prepare for natural disasters and Invisible Fires with Julia Stone, that helped raise awareness for the lasting mental health impacts felt by many post Australia's Black Summer.
"'A Fire Inside' is our most ambitious program of them all. Made possible by NRMA Insurance, the film, the book and the resilience movement is a celebration of ordinary people who possess a fire inside – the instinctive and extraordinary desire to help. We aimed to showcase the way every Australian responded, through stories of help, that will change the way you think about yourself, renew your faith in humanity and most importantly, drive change."
Renowned and multiple award winning creative, Nick Worthington, was engaged as a writer on the documentary, 'A Fire Inside', and to lead the creative direction of the broader project. Founder of the Tuesday Club, a purpose-driven creative collective, Worthington worked with independent Australian production company FINCH, to tell the brave and moving stories of help from first responders, volunteers and residents, who experienced the Black Summer bushfires. Worthington, who is a professional writer, also contributed to the book's commissioned essays and art direction, in collaboration with photo-journalist Matthew Abbott.
Says Nick Worthington (above), creative director for the A Fire Inside project: "The process of researching, writing and making the film and book renewed our faith in humanity, it also renewed my faith in the future of purpose-led brands. A serious film, a serious book and a serious chance to change culture and connect NRMA Insurance's belief in the power of help with the actions and beliefs of a whole nation. It takes a brave marketer like Brent Smart and his team and it was a privilege to be a part of it."
Watch the film
It's New Year's Eve when a young volunteer firefighter drives his car into almost certain death to help save a trapped family. The very same night, he puts his life on the line, three more times. Months on and the fires are out, but the nightmares are just beginning. What's tormenting him, however, isn't the memory of flames.
Made possible by NRMA Insurance, 'A Fire Inside' is a poignant documentary set against the backdrop of the worst bushfires in Australian history and turns a sensitive lens on the unprecedented devastation of the 2019-20 Black Summer bushfires, focusing on the human stories of help; shared by volunteers, emergency services, families, friends and neighbours in communities who were impacted by this event.
'A Fire Inside' launched on 7 October 2021 via nationwide theatrical release via Icon Film Distribution.
The documentary was developed and produced by award winning independent production company FINCH, and was written and directed by Justin Krook and Luke Mazzaferro. 'A Fire Inside' launched on 7 October 2021 via nationwide theatrical release via Icon Film Distribution.
Says Luke Mazzaferro and Justin Krook, directors for A Fire Inside: "It was hearing the first hand accounts of RFS member and filmmaker Andrew Flakelar's experiences on the front line that instigated our desire to explore the humanity behind the chaos of the fires and the question 'why do people rush towards danger to help, when everyone else is fleeing?' When you consider over ninety percent of Australia's firefighters are volunteers, who have left their day job and families behind to do so, it's particularly intriguing.
"Now almost two years on since first discussing the themes of resilience, heroism and recovery, and having met the incredibly selfless and courageous community members who appear in the film, it was the question of 'why do these people continue to do what they do, even after it has cost them so much?' that we are most proud of exploring and we hope that it will inspire audiences to think about how they can give back and help others."
Described as one of the must see films at the Sydney Film Festival, 'A Fire Inside' was nominated for the Documentary Australia Foundation Award (for best Australian documentary) and the Sustainable Future Award, and was recently awarded Gold in Documentary at the Australian Cinematographers Society Awards for Josh Flavell's work. Media nationally have seen and reviewed the film, with IMDB scoring it 8.9/10. Concrete Playground has highlighted how "emotions sears itself onto the screen with unshakeable power" and Canberra Times claims the film is "extraordinary and riveting for us all. I hope it's being screened at Capital Hill", scoring it 4 out of 5 stars.
Says Camilla Mazzaferro, head of entertainment, and producer of A Fire Inside, FINCH: "We are incredibly proud of the stories we have been able to share and grateful for NRMA Insurance's support to make this film. We are delighted to partner with Minderoo Foundation and together we hope to reach some ambitious impact goals with the Australian Resilience Corps."
'A Fire Inside' will air nationally across Channel 9 on Monday 13 December at 9:30pm AEDT, to earmark a national moment of recognition for all of those who helped during Australia's worst bushfire season on record. It will then be made available to stream on 9Now for six months.
Ads for 'A Fire Inside' will also be launched across the 9Network and pushed out across OOH, digital, social and owned channels and will include a full takeover of the Saturday edition of The Sydney Morning Herald's Good Weekend newspaper supplement in November and a cover wrap of The Sydney Morning Herald in December.
Says Sam Geer, national manager director, Initiative: "To do this powerful film justice we wanted to transform it from a straight forward film release into a cultural vehicle that could drive genuine change and conversation. Telling these stories of help in a national broadcast moment, allowed us to do just that."
Read the book
To accompany the feature length documentary, NRMA Insurance partnered with Thames & Hudson Australia Pty Ltd in association with Blackwell & Ruth, to create a legacy coffee table book: 'A Fire Inside: The Power of the Human Help Reflex'.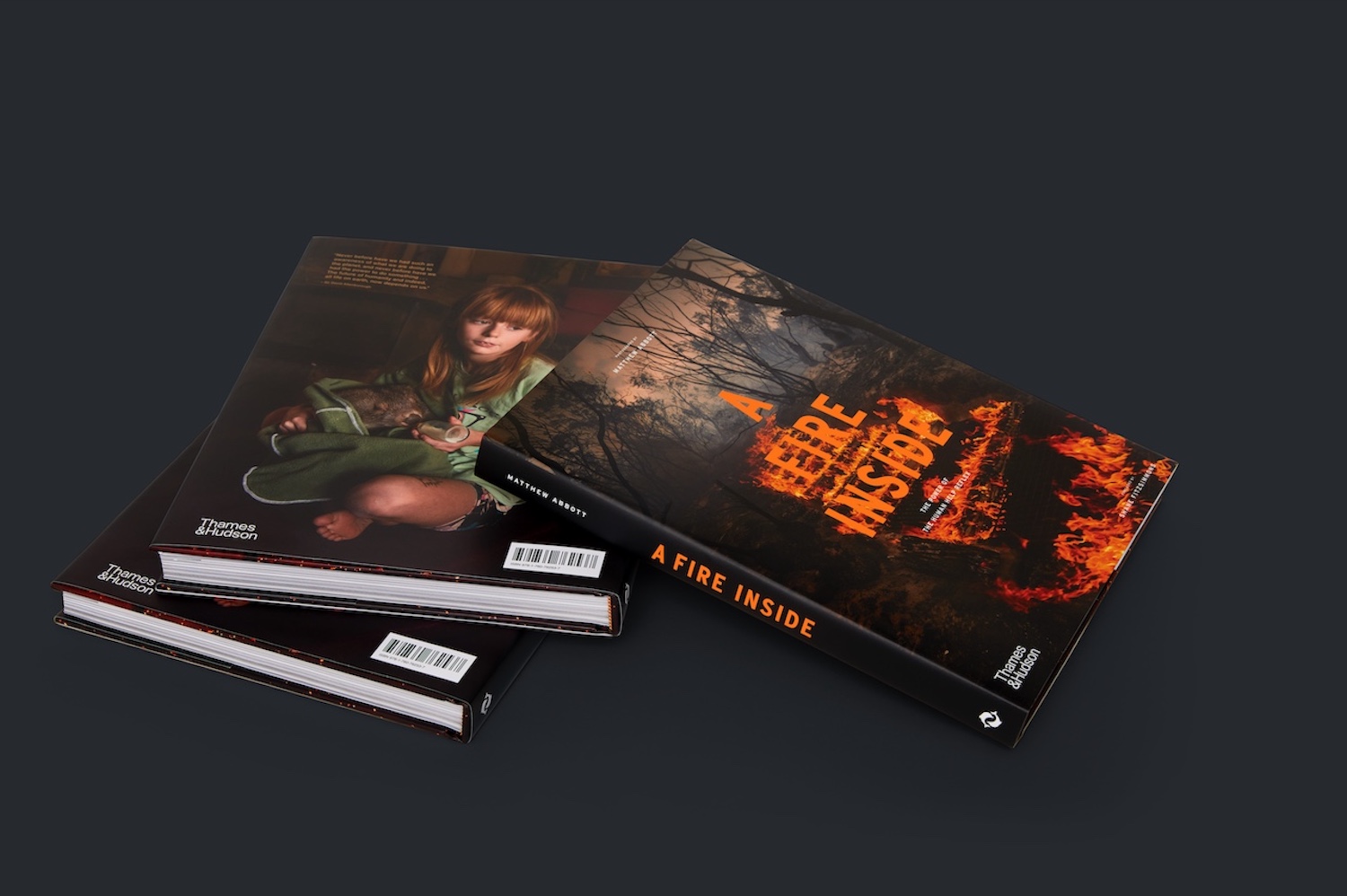 The book unpacks why humans run to danger to help others. It opens with a moving foreword by former New South Wales Rural Fire Service (RFS) commissioner Shane Fitzsimmmons and presents never before seen images from multi award winning photo-journalist Matthew Abbott, that capture the catastrophic events of the Black Summer bushfires.
Sir David Attenborough, who felt passionate enough about the project to place his name and a quote on the back jacket of the book, said: "Never before have we had such an awareness of what we are doing to the planet, and never before have we had the power to do something…The future of humanity, and indeed all life on earth, now depends on us".
Sociologist and social futurist, Ebony Gaylor, has penned three remarkable essays in the book that unpack the human help reflex to understand why it is that some people run toward danger to help others. She also explores three distinct types of helpers – the warriors, the worriers and the connectors – pushing us to see that through the power of help we can all play a role in building more resilient communities.
Woven throughout the storytelling in the book as it unpacks the power of the human help reflex, key frontline staff and experts from NRMA Insurance were selected to help bring the narrative to life. This includes IAG's Principal Research Analyst and specialist in meteorology, Dr Bruce Buckley (who also features in the film). Judi Hindson, frontline property and claims assessor, who stars in the brand's recent integrated campaign, also features in the book.
'A Fire Inside: The Power of the Human Help Reflex' has been available at all major Australian book retailers and Booktopia since 7 October for $55 (RRP). A percentage of the originating publisher's revenue from sales of the book will also support the Port Macquarie Koala Hospital.
The Weekend Australian placed the book at no. 3 in one of their recent top 10 books list.
Join the Australian Resilience Corps
In line with the launch of the film and book, NRMA Insurance has joined Minderoo Foundation as the founding corporate partner to create the Australian Resilience Corps – a national network of volunteers uniquely trained to help prepare and protect Australians against natural disasters and extreme weather. By joining the Australian Resilience Corps, aspiring volunteers can connect with a range of leading Australian volunteer organisations, with the aim of creating the nation's largest army of volunteers ever seen.
Launched on Monday 8 November, the Australian Resilience Corps has been covered by a long list of news outlets nationally, including the The Daily Telegraph and ABC.
The documentary 'A Fire Inside' concludes with the ultimate power of help, asking the audience to join the Australian Resilience Corps. To find out more about Minderoo Foundation and join the Australian Resilience Corps, please visit www.resiliencecorps.org.au.
CEO of Minderoo Foundation's Fire and Flood Resilience initiative, Adrian Turner, said the film was a lightning strike to inspire people across the country to volunteer in the off-season to help communities prepare before fire and floods occur: "This film speaks to the power of help and highlights the extraordinary spirit of volunteerism during the Black Summer bushfires. The Australian Resilience Corps is part of a bigger ambition to inspire all Australians to get behind that help.
"Having fought to protect my brother's home in the Kangaroo Valley during the 2019-2020 bushfires, I know from first-hand experience that preparation and active land management saved the property and our lives.
"We are grateful to our partners for working with us to lift the resilience of communities across Australia by giving everyone the opportunity to upskill and help."
Thinkerbell's role was two-fold, developing the messaging and comms framework for all elements of the project, and driving earned media amplification.
Says Adam Ferrier, chief thinker, Thinkerbell: "The unique aspect of this project was that we could stir people's emotions with the film and the book and turn those emotions into action with a call to join the Australian Resilience Corps – making this a massive emotionally charged behavioural change program. We want to get people involved in helping be a part of the solution. It's been an honour to work on such an important and creative project."
Client: NRMA Insurance
Film Production: FINCH
Theatrical Distributor: Icon Film Distribution
Film Post Production: Atticus
Original Film Score: Sonar Music
Film Sound Production: Unison
Creative Direction: The Tuesday Club
Campaign Design & Animation: Assembly
Campaign Sound Design: Franklin Road
Theatrical Distributor: Icon Film Distribution
Book Publisher & Distributor: Thames & Hudson Australia Pty Ltd in association with Blackwell & Ruth
Strategy & PR: Thinkerbell
Media: Initiative
Partnership with: Minderoo Foundation (Australian Resilience Corps)
NRMA Insurance
Chief Marketing Officer & Executive Producer: Brent Smart
Director of Content and Customer Engagement & Executive Producer: Zara Curtis
Manager of Content and Editorial & Consulting Producer: Raelene Metlitzky
Executive General Manager, Safer Communities: Ramana James
Director of Brand Marketing: Sally Kiernan
Executive Manager, Marketing Operations: Luke Farrell
Director, Group Brand Strategy: Caroline Hugall
Brand Strategy Lead: Anna Jackson
Head of Co.Lab: Jaclyn Gordon
Communications Planning Lead: Tom Dodd
Media Specialist: Lisa Jarvis
Specialist, Creative & Innovation: Danielle Picker
Specialist, Content Producer: Luke Mortimer
Social Media & Content Lead: Keira McIntosh
Head of Corporate Communications: Amanda Wallace
Corporate Communications Advisor: Alexandra Peard
FINCH
Director, Writer: Justin Krook
Co-Director, Writer: Luke Mazzaferro
Producer: Michael Hilliard
Producer: Camilla Mazzaferro (Head of Entertainment, EP)
Producer: Casey Ventura
Executive Producer: Rob Galluzzo
Executive Producers: Corey Esse and Jacqueline Maxted
Consulting Producers: Andrew Flakelar and Carla McGrath
Director of Photography: Josh Flavell ACS
Editor: Scott Walmsley
Composer: Matteo Zingales (Sonar Music)
The Tuesday Club
Creative Director, Writer: Nick Worthington
Creative: Billy Worthington
Producer: Frith Armstrong
Producer: Rosie Grayson
Editor: Alex O'Shaughnessy
Designer: Matt Oak
Blackwell & Ruth
Publisher: Geoff Blackwell
Editor in Chief: Ruth Hobday
Design Director: Cameron Gibb
Photographer: Matthew Abbott
Assembly
Design Director: Jonny Kofoed
Motion Design: Frankie Principe
Producer: Jane Oak
Franklin Road Music & Sound
Head Engineer: Shane Taipari
Audio Engineer: Stefaan Van Leuven
Audio Engineer: Cole Goodley
Producer: James Gibb
Thinkerbell
Chief Thinker: Adam Ferrier
Head Brand Thinker: Gerry Cyon
Head Thinker: Ruth Hatch
Head PR Thinker: Natalie Duncan
Lead PR Thinker: Taylor York
Founder, DOA: Ebony Gaylor
CEO: Margie Reid
General Manager (North): Katie Dally
Initiative
Managing Director: Sam Geer
Chief Strategy Officer: Chris Colter