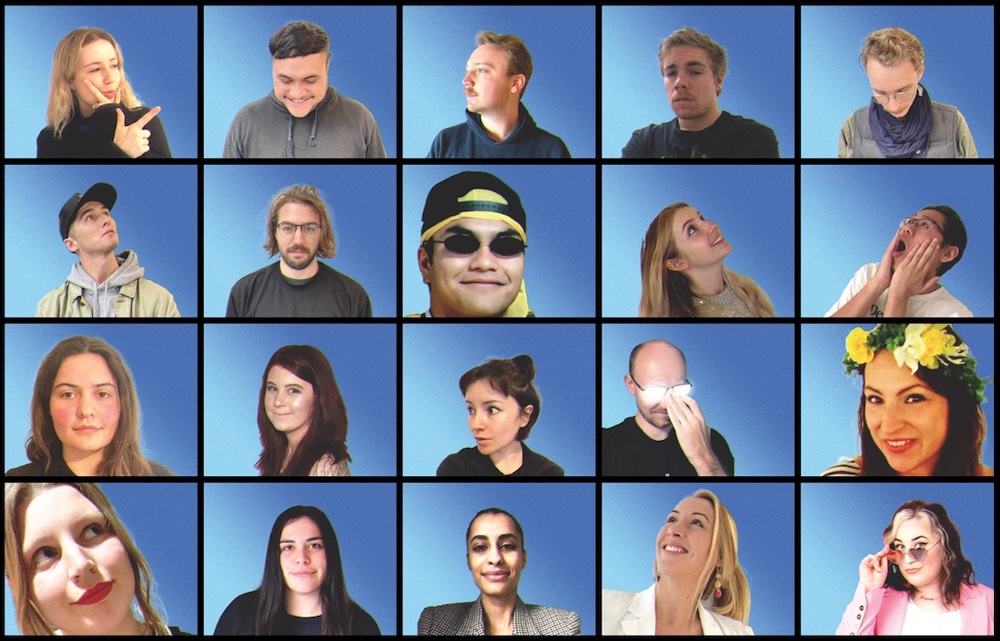 In the past two weeks, MDS's Creative Advertising students have not only had a fantastic haul at MAD STARS, with 33 ideas shortlisted in the non-professional category; they've also had two finalists make the cut ahead of final judging of the Student Orcas; and have been awarded one Yellow Pencil, one Graphite Pencil and two Wood Pencils at this year's D&AD New Blood Award Show.
Says Kate Humphries, programme director at AdSchool: "We've had so many of our students win finalist places in the MAD STARS competition this year, across multiple categories, that we've achieved a little bit of a record-breaker for ourselves- with every single student in 2022 making the shortlist ahead of final judging in Busan next month."
So, without further ado, a standing ovation to Herman Ulberg & Bella Griffiths for Baaateries (BNZ) and Herman Ulberg (again), with Jack Becroft for Asking for it (Do The Green Thing). Worth noting is these ideas scored two finalist places out of only five shortlisted in the Pivot category worldwide this year (and it was a double whammy in that shortlist for Mr. Ulberg).
Joyous fist bumps to Robert Laking & Jose Alfante for Gatherapy (Gather) and Astrid Henare & Anja Pienaar for Selfease (Dove) who were all shortlisted in the Innovation category; and to Robert Laking (again) & Jess Garrick for Tip the Earth (Do The Green Thing) which was shortlisted in the Green category; and to Jack Becroft & Herman Ulberg (yet again) for Asking for it, and to Bella Griffiths (again) and Crystal Hay for Immature clothing for all scoring finalist wins in the Film category (both for Do the green thing).
And Congrats (again) to Jess Garrick, who together with Letitia McKenzie scored in the PR category for Get Low Bands (Live Nation).
Another standing ovation to Jack Becroft, who together with Phoebe Rooney, won final placements for Tā Moko Tap (Spark), which not only won in the Peace & Justice Category, but also in both the Interactive & Film categories.
Big raucous cheers to Harry Pfiszter & Max Haymes for Scan & Fly (Air NZ), and to Georgia Henare & Jaymie Donavan for Mother F***Ing Earth (Do the green thing), with both teams scoring finalist placements in the mobile category. And a bloody big fist bump to Georgia & Jaymie for also winning a Graphite Pencil at D&AD's New Blood Awards for Mother F***Ing Earth. And to Georgia again, who together with Elissa Shaw, won a finalist spot in the Film category for Mighty Guards (Mitre 10).
Lashings of print category cheering to Georgia Henare (yet again) and Kevin Ng for Deadly Accurate (Apple Tags); Robert Laking (again!) & Gurnoor Bedi for Lost More (Apple Tags) and Harry Pfiszter & Herman Ulberg for 2 wins in this category for Oh! The Child Like Joy and Mind of their Own (both for Apple Tags).
Some huge-sombrero-sized-hats off to the Design category winners: Harry Pfiszter and Herman Ulberg again for Childlike Joy (Apple Tags); Jack Becroft (again!) and Bella Griffiths for The Last Place You Look (Apple Tags) and to David Gillard & Anja Pienaar for Lose Lost Property (Apple Tags), who also won in the Outdoor category for another take on Apple Tags with Taking the fun out of losing things.
And, in the MAD STARS Branded Video category, congratulations to Harry Pfiszter & Max Haymes for Twitch Rush (Amazon); David Gillard & Kevin Ng for Audible Oratory (Amazon) ; Michael Gillard & Jaymie Donovan for Revenge Block (Durex); and Anja Pienaar & Elissa Shaw for Recycle the Cycles (Do the green thing) and a triple whammy to Max Haymes & Kevin Ng for Fine is a four letter word (Walkers Crisps) which not only won in this category and the Film category for MAD STARS, but also, drum roll, scored a lovely, big Yellow Pencil win at the 2022 D&AD New Blood Show.
Special mention to 2021 alumni: Maria Masniak for her triple finalist win in the PR, Integrated and Media categories for M (Mars) and to Bayleigh Way & Sam Isaacs for Penguin Cup (Penguin), which not only won in the Brand Experience & Activation category for AdStars but also scored a D&AD Wood Pencil at the D&AD New Blood Show.
And, a couple of high fives to our Student Orca finalists, Kevin Ng & Elissa Shaw for Main Character Energy and Harry Pfiszter & Letitia McKenzie for All you saw.'
Says both Humphries and David Bell: "It's a great haul across a number of categories, which means every component area we've have taught so far this year has been acknowledged by industry judges both nationally and internationally. We couldn't, however, have done that without input from industry-so, a big shout-out to the industry guests who came in to critique specific projects- Michael Tam (Global Design Director IBM iX); Jeneal Rohrback (Marsden Inch) and the inestimable Andy Blood who is, as always, moving fast and breaking things.
"And to all our industry panellists Dave Shirley (Special); Stu Mallarkey (Special); Sam Stuchbury (Motion Sickness); Wihan Meerholz (Tribal DDB); Sarsha Drakeford (DDB); Lizzy Baird (DDB); and Mick Stalker (TBWA) -we really couldn't have done it without you."